Solvecta - Portfolio : Software Design : VB : Outlook Express Mail Rules Backup
This small utility was designed for one purpose - to backup the Mail Rules that Outlook Express allows you to create. The rules come in very handy when you want to sort your mail within Outlook Express.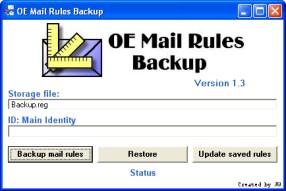 Latest release version: v1.3
You can use this utility to backup, manage and restore your email rules that have been setup in Outlook Express.
You can download this utility from here.

Please use at your own risk. OEMRB is currently freeware, but does not deal with News settings, filters etc. Future updates may address these issues, if there is sufficient demand.